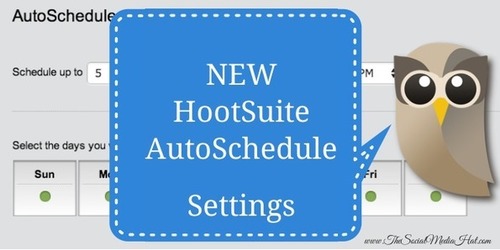 HootSuite has added a Buffer-like option to set which days of the week you want to share AutoScheduled posts, and how many times per day.
Mike Allton's insight:
If you like HootSuite, you're going to love this!
I noticed something new the other day. While creating a post within HootSuite that I was going to schedule out to Twitter, I saw that now, next to the AutoSchedule button, there was a new gear icon there that I'd never seen before. Intrigued, I clicked it and found that at some point recently, +HootSuite had added settings for AutoSchedule!
Now, much like Buffer, you can pick and choose which days you want AutoSchedule to post on, how many times a day, and even the hours during which you want those posts to be shared.
Take a look at what the little owl left us and be sure to give some thought to how you want your own settings to work.
What do you think? Is this better than Buffer?
See on www.thesocialmediahat.com