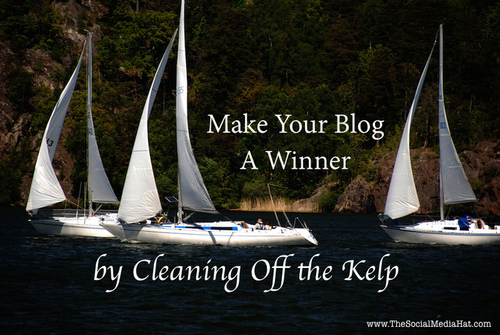 What's the point of sharing a blog post to a site that's only going to get me a couple of views, at best? Should we waste time sharing posts to third tier social networks and directories?
Mike Allton's insight:
Are you cleaning the kelp off your blog?
In one of my favorite episodes of The West Wing, political consultant Bruno Gianelli tells a story about cleaning kelp off a racing sailboat, and how important it is to use the right method because while the kelp might be causing some drag and resulting in a small amount of lost boat speed, fumbling around in the water trying to get the kelp off using the wrong method can be even worse!
It's a fun analogy (and another example of how storytelling can be used to educate and entertain, but more on that tomorrow night), and it's one that can be applied to many areas of business and blogging. In today's post, I use it to explain why I don't just focus on Google+ and Twitter. Those two platforms generate 95% of my referral traffic, so why should I waste time with StumbleUpon and Digg and others?
Dig into why here: http://owl.li/uca2x
To put it another way, I've talked before about how, after I publish a blog post, there are 25 things that I do to help promote that post. Some are more valuable than others, but all of them are working together to expand my reach and connect with more readers.
How about you? How many different tools and techniques and platforms are you using to promote your new content?
See on www.thesocialmediahat.com