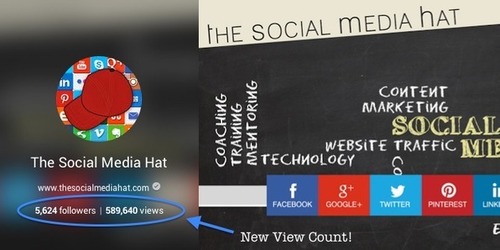 While people and pages have always shown how many other people have circled them, Google has now added the ability to see how many times your profile or page has been Viewed. +Kenneth Manesse Sr. pointed out that now, on your profile page next to your follower count, there's a new metric called Views. The metric is there for both personal profiles and business Pages.
Mike Allton's insight:
Google+ View Counts for Profiles & Pages
If you've ever been curious just how many people have checked you out, or taken a look at your Page on Google+, now you can tell just be looking.
In an update first noted by +Kenneth Manesse Sr., profiles and Pages now sport a fancy "View Count" just under their profile image in their header.
Yet that may not be the most important news. For Pages, note that now, instead of a +1 count, your Page displays your follower count.
You Can No Longer +1 Pages
At first glance, I think this is a great improvement, as many business owners were confused over the value of a +1 vs. a follower for their Page. And it also offers Page visitors a clear call to action – follow us!
Take a look at your own View Counts and that of your business Page and let me know what you think! Do you like the new metric, and do you think the loss of +1 counts for Pages is a big deal?
See on www.thesocialmediahat.com