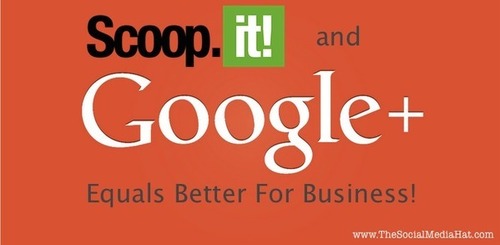 Scoop.it is one of the tools that I highly recommend for content curation, and they've just released a couple of updates that are really exciting for businesses involving Google and Google+.
Mike Allton's insight:
One of the Best tools for Content Curation just got Better!
Earlier this week, +Scoop.it announced that users can now connect their Google+ account and be set up for Google Authorship, as well as share new scoops to their Google+ Page.
This is really cool news.
Longtime Scoop.it users are really excited, and for good reason. We've been using Scoop.it to find, curate and share some incredible articles and insights, and now that commentary and content can take advantage of greater visibility in Google Search results.
And being able to more easily share the content we find, and our thoughts about it, to our Google+ Business Pages creates a more seamless process of social media activity.
In other words, businesses can use Scoop.it to identify articles that their followers and potential clients would be interested in, save the articles and include some thoughts and perspective from the business, and share those ideas along with the article to all of their branded social profiles. And in so doing, create more opportunities for the business to come up in relevant search results.
Learn more about Scoop.it and these new features: http://owl.li/u6FF7
Have you tried Scoop.it before? If you're currently using it, please share a link to your Topic so we can check it out!
Thanks, and have a great weekend!
#Scoopit #GooglePlus #GoogleAuthorship #ContentCuration #Blogging #Business
See on www.thesocialmediahat.com