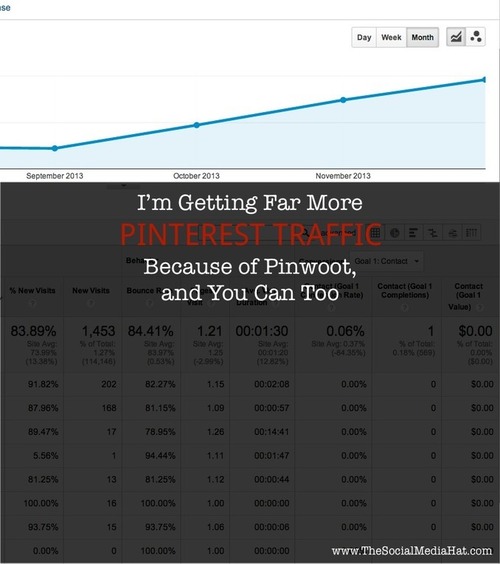 Over the past four months, I have seen my referral traffic from Pinterest go up by approximately 50%, every month, and that will continue to increase, mostly thanks to the tool Pinwoot.
Mike Allton's insight:
How Drive More Blog Traffic from Pinterest using Pinwoot
Pinterest is fast becoming one of the best tools in my arsenal for increasing interest and traffic to my latest blog posts, and I'm not alone. +Jeff Sieh introduced me to a tool called "Pinwoot" for just that reason, and yesterday on our Manly Pinterest Tips show, +Chef Dennis Littley revealed that Pinterest is one of the top referral sources of traffic to his website.
To build a following and develop your Pinterest boards and curated pins certainly takes time, but you can jump-start the process using this Pinwoot tool. I recently caught up with Pinwoot founder +Alexander Cruz and picked up some great tips from him, as well as a glimpse into the future of Pinwoot!
Learn more: http://www.thesocialmediahat.com/blog/im-getting-far-more-pinterest-traffic-because-pinwoot-and-you-can-too-01182014
In the article, I reveal several of the steps I've taken to improve my focus on Pinterest in general, and then dive into how to use Pinwoot and some best practices, from both Alexander and myself.
For instance, both Alexander and myself recommend using images that are at least 600px wide and tall (portrait) in format.
Have you tried using taller images, rather than wider images? Have you noticed a difference? What do you think about Pinwoot?
Thanks, and have a great weekend!
#Pinterest #Pinwoot #Blogging #WebsiteTraffic #ContentMarketing
Pin it for later: http://www.pinterest.com/pin/12666442676237745/
See on www.thesocialmediahat.com