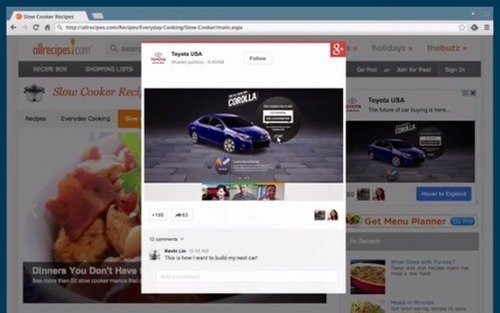 Today, Google announced that Brands who are actively using their Google+ Pages will soon be able to use their status updates to generate display ads which will be displayed across the Google network.
Mike Allton's insight:
BREAKING: Google+ Posts As Dynamic Ads for Businesses
In a stunning announcement this morning, +Vic Gundotra and +Eran Arkin shared that Google is working on and testing a new ad format for AdWords where a business can use one of their Google+ Page posts as an ad.
This is truly a game changer, folks, so pay attention.
First, businesses will be able to use compelling stories and content on their Pages and share those posts to the over 2 million other websites within the Google Display Network.
Second, visitors to all those networks are going to begin seeing Google+ posts as and instead of ads.
And the posts are the same, so as the +1's and comments and shares accumulate on an interesting post, everyone will see.
And it gets better. The posts can include Video and even Hangouts!
When contrasted with the games Facebook is playing with forcing businesses to pay to play, it's clear which network is headed in the right direction.
For the full scoop, including the steps businesses need to begin taking today to get started and be able to take advantage of this new way to reach customers, please read the article below.
And if you or a business owner you know is not yet on Google+ or doesn't yet have a Business Page, please share this with them.
What do you think? Will you use the new ad format? Do you think you'd prefer text posts or will you try displaying a video or even a Live Hangout?
Thanks, and have a great Monday!
See on www.thesocialmediahat.com