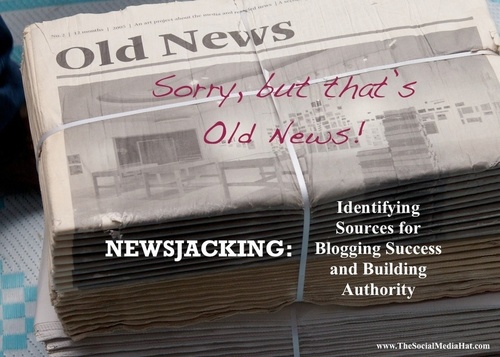 Part of the value in Newsjacking is being first, or at least early, in the reporting process so that your readers are learning about the story from you. That means knowing where to get the scoop!
Mike Allton's insight:
Where's the New News for Newsjacking?

I love talking about Newsjacking and how businesses can use that style of blogging to bring tremendous value to their clients, and build authority with their readers and followers. But the inevitable question is always: where do you find sources for news stories?

And that's the trick, isn't it. If you don't have processes set up in advance to make you aware of stories as they're developing, you can hardly be expected to write about them in a timely manner. As I mentioned to +David Oldenburg on his weekly show, successful Newsjacking is 9/10 preparation!
I always start by telling people to follow the RSS feeds for their industry leaders and news sources, but there are quite a few other sources as well that you should be considering, including:
– Other blogs and websites
– Social Media profiles

And two other key sources that can be extremely powerful and effective… but you'll have to read the article to find out what they are. 😉
The full article: http://www.thesocialmediahat.com/article/how-identify-newsjacking-sources-blogging-success-and-building-authority
If you're interested in adopting Newsjacking for your own business or blog, but have other questions or need more help making it work, let's talk!
Thanks for reading!
#Newsjacking #Blogging #ContentMarketing #Branding #Business
See on www.thesocialmediahat.com