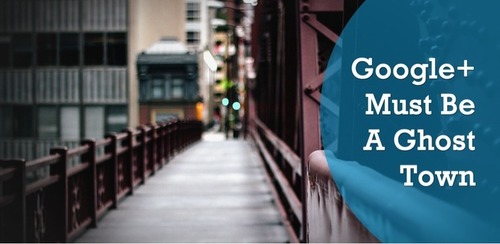 Many people come to Google+ expecting to find Google's version of Facebook or Twitter or Pinterest. They look for their friends or a specific experience and, finding none, consider it lost. But is it?
Mike Allton's insight:
Google+ Must Be A Ghost Town
+Jeremy Smith is absolutely right. Google+ is a ghost town, isn't it? I'm sure no one will read this, no one will comment on it, no one will share or click through to the article. There's no one here.
Yet many of us know that's far from the truth.
As Jeremy points out in today's guest blog, the perception is flawed because many people, businesses and organizations come to Google+ with flawed expectations. Instead of taking a moment to understand what Google+ is about and how their social media strategy needs to change to fit this different ecosystem.
As someone once said, Facebook is for connecting with the people you already know, Google+ is for connecting with the people you should know.
If you still feel like Google+ is quiet and empty… check out Jeremy's post and give his suggestions a try. And if you have questions on how to get more out of the network, let us know!
Google+ Must Be A Ghost Town: http://www.thesocialmediahat.com/blog/google-must-be-ghost-town-10242013
Thanks for your comments and shares!
#Google+ #EvanG + #GooglePlusTips #Perception
Pin it here: http://www.pinterest.com/pin/12666442675768438/
See on www.thesocialmediahat.com