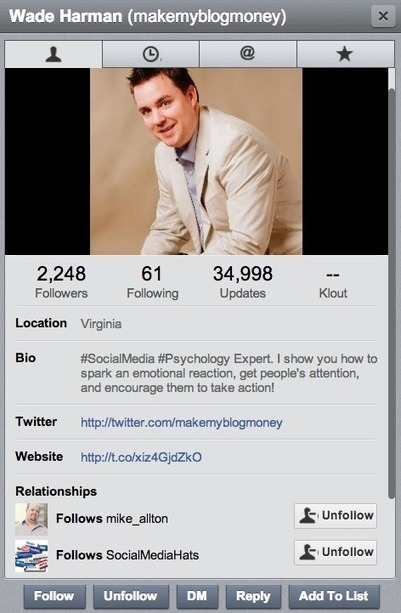 What HootSuite has now incorporated into your dashboard is the ability to see whether or not someone is following you, or any other Twitter profiles you happen to have connected.
Mike Allton's insight:
HootSuite New Feature: Relationships
+HootSuite is the process of implementing a number of new features that were churned out during a 2-day hackathon. The latest is the ability to check out someone's profile card within HootSuite and see not only their Bio and other information, but whether or not they're following you or any other account you have connected to your HootSuite dashboard.
What's the Big Deal?
While it's certainly nice to be able to see whether or not someone's following you, what's so impressive and useful is that this update continues to make the HootSuite dashboard and profile card system an invaluable tool for Influencer Marketing. Namely, being able to identify and connect with influencers, and monitor the success of your efforts.
For more information on the new feature, and how we can use the HootSuite dashboard to engage influencers, check out this afternoon's story.
Thanks!
#HootSuite #SocialMediaManagement #InfluencerMarketing
Pin it here: http://www.pinterest.com/pin/12666442675753148/
See on www.thesocialmediahat.com