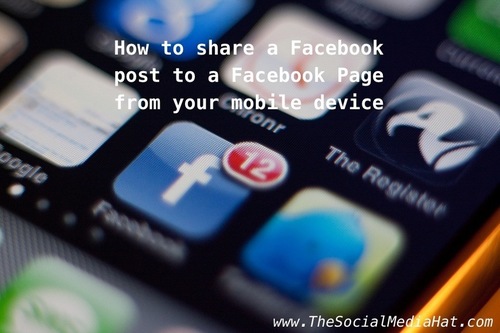 As a business owner on the run, I often see posts on Facebook that I would love to share to my Facebook Page. Here's how to do it, as well as why you would want to and how it will help your business.
Mike Allton's insight:
Sharing Facebook Posts to Facebook Pages on Mobile
For some reason, Facebook's mobile apps give users a couple of options when they want to share a post. If you tap on the Share button under a specific post, you're presented with "Share Now" or "Write Post." Share now will immediately share the post to your own wall without any opportunity to edit or direct. It's only when you use Write Post that you'll see not only the option to add some commentary, but also a drop-down where you can change the target of the post and share it to a specific Facebook Page.
If you'd like more detailed instructions and screenshots, as well as how this activity can benefit your business, be sure to read today's article: http://ow.ly/pzKjK
Key Points from the article:
– How to find interesting, shareable content on Facebook
– How to share posts to your Facebook Page
– What kinds of posts should you share
– Influencer Marketing using your Facebook Page
– What if you don't have time to find posts to share?
Let me know if you have any questions at all about how you can use Facebook and your Facebook Page to connect with more people.
#Facebook #SocialMedia #InfluencerMarketing
Pin it here: http://www.pinterest.com/pin/12666442675678122/
See on www.thesocialmediahat.com